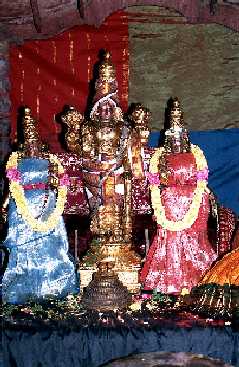 The presiding deity of this sacred temple is Sri Rama,
christened Sri. Vijayaraghava
The name connotes His great valour which consumed the might of the errant king Raavana.

It was Jatayu's prayer that the Lord should enliven Tirupputkuzhi as SAMARAPUNGAVAN , the unconquered, and grant boons to worshippers.

Hence, Sri Vijayaraghava Perumal adorns the sanctum, seated in His heavenly posture with Sangu (conch) and Chakra (disk). His consorts SriDevi and BhuDevi are graciously seated in the flanks.

SriDevi sits on the left side and BhuDevi in the right side, contrary to the normal practice.

Sri Vijayaraghava Perumal's divine grace as reflected in His fascinating and bewitching smile is a feast to the eyes of any discerning devotee.

People throng this Sannidhi especially on the New moon days .

The inner mandapam also hosts the Alwars.

Daily Poojas are systematically performed.

Sri Perumal's thirunakshathram (birth star) is PUNARVASU.