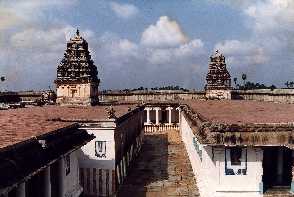 The Legend
The Fourth Canto of Vamana Purana narrates the origin of Thirupputkuzhi temple. The narration, running to 60 verses, as told by sage Brugu to sage Bharathwaja extols the noble deed of Jatayu, the old Eagle King.
Sri Rama, while on exile met Jatayu, a great friend of Dasaratha. Jatayu promised the Lord to take care of Sita . Not long afterward he had to defend his promise. Hearing the anxious cry of Sita while she was abducted by Ravana, Jatayu valiantly intercepted him. After a fierce fight, he fell grievously injured and Ravana escaped.
On his search for Sita, Rama saw Jatayu, desperately clinging to his life. Jatayu blessed Rama with long life and victory in battles. Then he quickly narrated what happened and shed his mortal frame.
Rama was shaken. He thought of his father and the supreme sacrifice of the old Jatayu.
Sri Rama himself performed the funeral rites of Jatayu as he would have done for his father. He scraped the ground with his bow and in the gushing spring bathed with his brother and performed libations to the departed spirit.
Sri Rama appeared before Jatayu in the divine form of Sriman Narayana, bedecked with all his sacred ornaments , with sangu and chakram and with His divine consorts on his sides.

And the Lord, with folded hands, declared :

"By this act of committing your life at the altar of service, Jatayu, you have attained the abode of great savants. You shall come to my supreme Heaven. Let this spring attain fame as Gridhra Pushkarini. Let all the sacred rivers confer their presence in this tank."