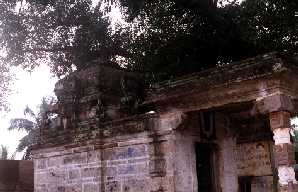 JATAYU
The prime reason behind Sri Rama's adorning Tirupputkuzhi in such graceful divine form is, Jatayu's great sacrifice.
The vaishnava bhakthas worship Jatayu as the best among the Bhagavathas.
"We should behold with Sita's eyes the poor, old Jatayu's hard struggle against Ravana . Then we would realize the love, gratitude and sorrow that had surged in her heart as she watched his sufferings.
Thus we shall also be purified by the grace of the Mother. That's why such a high rank is assigned to Jatayu among the Bhagavathas.
Jatayu's battle with Ravana, in a way, was a precursor to Sri Rama's battle with Ravana. It is here, scholars surmise, at the moment of Jatayu's death, Sri Rama took the decisive step of waging a war with Ravana ; more to avenge the death of a Bhagavatha, than to uphold his honour as Sita's husband.
"After blessing Jatayu the bliss of the great saints and all the good people , Sri Rama became steadier in his intent and stronger in mind" says Rajaji.
No Wonder ! The pious revere Jatayu, along with Bharatha and look him as an ALWAR; a guide in the holy path.