Sundara Pandian endowed a big village, the revenue from which was earmarked for the offerings for the Alwars sannidhis. This inscription also tells a lot about the measurements used in that period and about the 'trade unions' that functioned in those early days.
The features seen in the niches of the inner corridor around Perumal shrine reveals early chola style.
The madilpatti mandapams are in Vijayanagar style. Also in this period the right of supervising the temple and repairs (Tiruppani Nirvaha Kaniyatchi) was sold by the trustees to third parties.
The 16-Pillar mandapam at the entrance of Perumal Sanndhi is in the Chola style.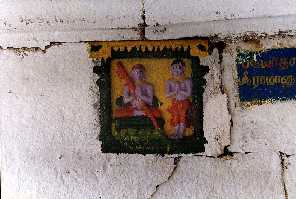 The unique panel in the bas-relief style on the southern rampart at the Ramanuja Kalaksheba mandapam, depicts Ramanuja as a student, standing in all humility at the feet of his Guru Yadhavaprakasa. This unique panel also records for the posterity, the much hailed Guru-sishya relationship of those days.