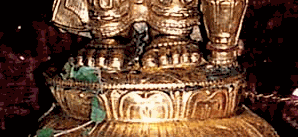 Tirupputkuzhi
THE WHERE, THE WHAT, THE HOW and THE WHY
Tirupputkuzhi, lies on the Chennai ( Madras) - Bangalore Highway, 85 Km from Madras and 7 Km from Kanchipuram, the silk centre.
RECORDED HISTORY at Tirupputkuzhi tells that this temple once rivalled the grandeur of Kanchi Sri Varadharajaswamy temple.
Both archeologically and religiously this temple offers abiding interest to both the connoisseurs and the pious commoner.
The Divya sthalam houses a magnificent temple and a sacred tank, both of which have a fascinating background in their origin, detailed in the LEGENDARY PURANAS and Sri Ramayana.
The Bus stop on the highway is called BALUCHETTY CHATRAM (the name of the village) from where the temple is just 200 yards southwards.
Several great Srivaishnava ACHARYAS have worshipped the presiding deity Sri Vijayaraghava Perumal and sung his glory.
Thirumangai Alwar has paid a hymnal tribute (Mangala Sasanam) to deity and hence this sacred place is called a A HALLOWED SHRINE( Divya Desa).